CDA CCA5SI Cooker Hood Canopy Extractor 52cm Silver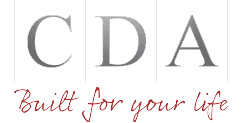 The CDA CCA5SI Cooker Hood is an Under Canopy chimney style extractor which is 52.5cm wide and is finished in a stylish silver finish. The CDA CCA5SI Cooker Hood contains slider controls and a 3 speed fan. Designed to compliment all CDA Ovens and Hobs, you can be assured that The CDA CCA5SI Cooker Hood will give you all the style and features needed to suit your needs!
Getting rid of strong smells and moisture can be a challenge with double glazing, insulation and sealed heating systems in the home. This CDA CCA5SI Canopy Cooker Hood will eradicate unpleasant odours, grease and steam from your kitchen. It is presented in Silver and would make a stylish and modern addition to any kitchen. The CDA CCA5SI Canopy Extractor Hood contains a slider control system that is easy to operate along with 3 fan speeds for different levels of extractions. The CDA CCA5SI Cooker Hood has an extraction rate of 175m3/h and has 1 x 28W halogen light providing plenty of light for the hob. The CDA CCA5SI Cooker Hood also includes a glass light diffuser to give you a clearer view and an acrylic grease filter with an optional aluminium filter. This CDA CCA5SI Extractor Hood comes with ducting or recirculation installation options.
Full Features

| | |
| --- | --- |
| Description | Getting rid of strong smells and moisture can be a challenge with double glazing, insulation and sealed heating systems in the home. This CDA CCA5SI Canopy Cooker Hood will eradicate unpleasant odours, grease and steam from your kitchen. It is presented in Silver and would make a stylish and modern addition to any kitchen. The CDA CCA5SI Canopy Extractor Hood contains a slider control system that is easy to operate along with 3 fan speeds for different levels of extractions. The CDA CCA5SI Cooker Hood has an extraction rate of 175m3/h and has 1 x 28W halogen light providing plenty of light for the hob. The CDA CCA5SI Cooker Hood also includes a glass light diffuser to give you a clearer view and an acrylic grease filter with an optional aluminium filter. This CDA CCA5SI Extractor Hood comes with ducting or recirculation installation options. |
| Model | CCA5S |
| Handbook | Click here to view this model's Handbook |
| Brand | CDA |
| Packed Height (mm) | 390 |
| Packed Width (mm) | 580 |
| Packed Volume (m3) | 0.05 |
| Packed Depth (mm) | 240 |
| Packed Weight (kg) | 5 |
| Width | 52.5 cm |
| Height | 14.8 cm |
| Depth | 28.2 cm |
| Colour / Finish | Silver |
| Homepage - New In Tab | No |
| Boost Setting | No |
| Built In Light | Yes |
| Ceiling Mounted Installation | No |
| Charcoal Filter | No |
| Control type | Slider Control |
| Digital Display | No |
| Ducting Diameter | 120mm |
| Energy Rating | E |
| Maximum Extraction Rate | 175m3/h Extraction Rate |
| Filter Saturation Indicator | No |
| Glass Canopy | No |
| Grease Filter | Yes |
| Halogen Lights | 1 x 28W halogen light |
| Hood Type | Canopy |
| Maximum Noise Level | 61 dB |
| Minimum Hob Clearance | 600mm electric / 700mm gas |
| Number of power levels | 3 |
| Wall Mounted Installation | Yes |
| Built-in into the Cabinet Installation | No |
| Under Cabinet Installation | No |
| Warranty (may require registration) | Manufacturer 2 year warranty |
&nbsp&nbsp Frequently Asked Questions and Answers
---
&nbsp&nbsp Ask a question